TIME, HEALTH & WEALTH – THE THREE PILLARS OF SUCCESS!!
Time, Health and Wealth – these are the three fundamental sources of human beings with which we approach life. When we are in good health condition, we spend most of our time making money. We educate ourselves to either save our money or ways to create more wealth. Of course money is very essential in today's world. But, at a later stage, when we have earned enough money and we have lot of time with us, we unfortunately lack the energy to experience that life. That is called as a health problem. Without good health, the wealth and time that you have, is of no use. And you end up spending all the time and wealth you possess only to regain or to get back the health that you have lost; not to enjoy the life you have. This is the situation in everyone's life in the present world. You can instantly create wealth through various sources but you can't instantly fix your health. People spend a lot of money in Fitness Centre without doing any other activity. That's also a wrong approach.
INVEST YOUR TIME WISELY
Here, we are talking about a huge percentage of population which is going through the satisfaction crisis. Animals don't have this crisis as they don't have any preferences in life.
But we human beings have preferences in our lives and living without them is foolishness. Right from the way we dress, the language that we speak, everything is related to our preferences. As you grow old, you reach a stage where you are unable to move as you wish. As a cancer patient, you have everything that money can buy for you but medicines and a particular lifestyle is what you can prefer. All this never happens on a single day. So, decide where you are going to invest your time for the rest of your life from now and make that decision as your highest priority. Let it be 20 min or 40 min a day; make that investment of time as the consistent discipline forever. Spending three hours in a gym for a month and then taking a break for three months is of no use.
SECRET OF SUCCESS
For this New Year, tell yourself the highest secret of any success. Nothing can be attained, it can only be maintained. One thing you can never buy with wealth is Time. So, decide to invest your time on health every day without fail and make sure you don't fail in any aspect of life from now and forever.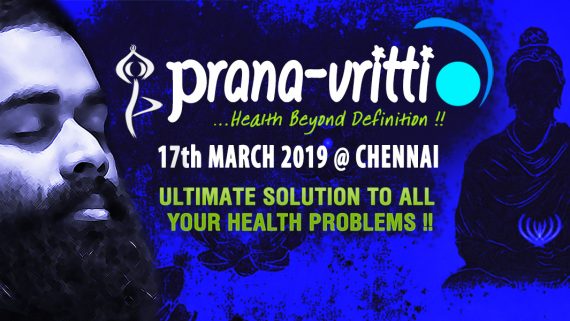 UPCOMING WORKSHOP
Ultimate Solution to All your Health Problems !!
In fact Vedas say that any time we spend on health in the present moment is 18 times of the time in future to recover from your illness. You don't have to be a fitness freak but don't be a failure in life because health is the only resource with which you can enjoy or enhance any other resource that we possess or we are going to possess. This is the design of the divine for human beings.
THIS NEW YEAR, MAKE HEALTH YOUR FIRST PRIORITY
Understanding this, to enjoy every aspect of life, let's take a beautiful decision for this New Year. Let us take care of the first resource through which we are going to create every other resource that we want in life – our Health. Once you decide this with conscious commitment, take one more decision to achieve unstoppable success.
Instead of trying to keep up the promise that you have made for others, promise yourself that you will keep up the promise that you have made for yourself. Then the entire universe will promise you to deliver the life you ever wanted to live from now and forever.
Wishing you a Life Full of Peace, Success and Happiness.
Atmayogi Shri Aasaanji
Aham Brahmasmi !