MAHALAYA AMAVASYA – THE ULTIMATE TIME FOR REMOVING NEGATIVITY
Mahalaya Amavasya is the Ultimate time to Eliminate Negativity from the Entire Humanity for Unstoppable Peace, Success and Happiness.
What is Mahalaya Amavasya ?
As per Shastras, our present life is the continuation of the past life and also the preparation for the next life. It is believed that people die and are reborn on the same earth. The only reason why we are enjoying this beautiful life is because of our ancestors. Maha means "highest" or "greatest" and Laya mean being in alignment or oneness. It is believed that during Mahalaya Amavasya, certain energy in nature which facilitates the human beings to experience oneness with the divine, is at its pinnacle. This Mahalaya Amavasya is the perfect time to respect every elder who has contributed to our present life. This comfortable and sophisticated life that we are enjoying is the work of our deceased ancestors. There is good karma and bad karma in our ancestors. So, on this auspicious day, we, as human beings spiritually help them to raise their energy to remove their bad karma and experience a good life when they are born again on this earth.
Significance of Mahalaya Amavasya:
This is the highest time for one to experience the Divine Power to remove obstacles in the present life and to create a prosperous future. This day was created by our ancient ancestors and does not pertain to any particular Religion or God. It's a great time to celebrate our lives which is possible only because of our ancestors. It directly involves removing negative energy and to create a great life thereby bringing peace to the entire human society, not only for people who have born and gone but also for the people who have not yet born. This is the reason why Vedas termed it as " Sarva Pitru Amavasya"

Sitting in silence and blessing our elders having their image in our minds is the most essential part of this day. Every human being should consider this as the greatest opportunity to fulfil their highest responsibility, not just by performing puja or prayers but by blessing their elders. Mahalaya Amavasya is the time to find oneness with the Ultimate Power which provides us the energy to remove all obstacles in life. That's why this day is also observed as Durga puja. The significance goes back to Goddess Durga who descended on earth to reinstall the goodness in human beings by eliminating the existing evil.
This day is to remind ourselves that taking care and loving our parents (and elders) is as important as paying respects to our deceased ones. Respecting our elders when they are alive is more important than the mechanical "Tarpana". It is the highest Punya-Karma that we can do for us and for our family. No one can stop the blessings that we receive from God when we take care of your parents and elders.
The Unknown Fact:
It is a known reality that the mother of every human being is Mother Earth.Its only through her, we get food and also the ability for the physical body to receive the invisible power and experience God.
Mahalaya Amavasya is considered as a boon given to this human world as per our great ancestor KARNA, who is also referred to as Maha Kunti Putra. It is said that he was unknown of his parents and so decided to do puja for all his ancestors.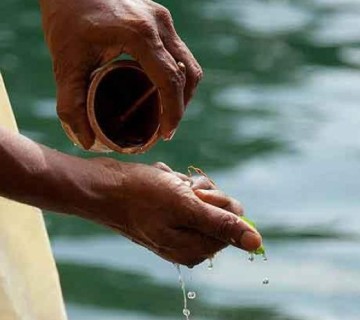 Thus,the day signifies Karna offering prayers for his ancestors doing "Shraaddha" and "Tarpana".Donating food to the needy and initiating charity work also form part of this day. It is believed that our ancestors are satisfied not just by the Tarpana, but by the charity works that we do on this particular day. One who does all these on this auspicious day is entitled to enjoy a good life and to bless the entire generation. This secret was revealed to humanity by Karna which ultimately forms the importance of Mahalaya Amavasya. As per the Hindu mythology, by meditating on this day, it is believed that both Lord Shiva and Lord Vishnu will bless everybody and facilitate their souls to experience Moksha.

As per Garuda Purana and Agnipurana, this day is not only to pay respects to our ancestors, but it also prevents the whole family from facing any unnatural deaths or sudden unexpected deaths. It is guaranteed that they will live a good and healthy life till their last breath.
This Mahalaya Amavasya is a celebration of the entire Humanity crossing all Religions and Gods.
Wishing you a life of peace, success and happiness.
Atmayogi Shri Aasaanji
Aham Brahmasmi !